NEED A SPEAKER?


CLICK HERE FOR SUGGESTED TOPICS
Do you belong to any groups or organizations that feature speakers?
An acclaimed motivational speaker and Toastmaster, author Patricia Alexander can customize the topic of "Real Comfort Versus Toxic Comfort" to your particular group's needs and speak to any length of time desired.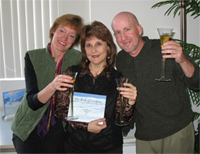 She's funny – she's lively – and she delivers meaningful content that will leave every listener with something valuable. Click here to see some suggested topics.

Artist/designer Dean Andrews (individually or with Patricia) is also available to address her art and design work for the book. An artist who also loves words, Dean is an entertaining and uplifting speaker who loves to engage a group in a discussion about art in all its forms.



NEED A FUNDRAISER?


When your organization's members or their friends buy

The Book of Comforts

either at a speech or online, we will donate a percentage of books sales to your organization!



NEED A SEMINAR?


With a hands-on Workbook and gifts and surprises, Patricia can lead a more intimate seminar that will be full of energy, ideas and laughter – ultimately, leading everyone to personalize instantly useable strategies for healthy self-comforting.



ORGANIZATIONS AND BUSINESSES…


Inspire attendance and loyalty. Purchase The Book of Comforts at a discounted rate and put an attractive label on the inside front cover announcing it as a gift to your members or employees when they hear Patricia speak!



RETAIL STORES & BOOKSTORES…


Increase sales and book Patricia Alexander and/or Michael Burgos and/or Dean Andrews to sign books at your site.

Contact Blue Epiphany now to make arrangements!