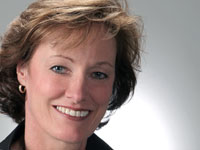 From the first moment of this book's conception, the authors wanted the art and design of their book to be as music is to a movie – subtle, interwoven, constant and affecting. Artist Dean Andrews has the spiritual maturity, creative experience and passion they were seeking.

Dean Andrews' paintings are in galleries and private collections across the country. In addition, she is an award winning art director, a graphic designer, creative director, illustrator, web site designer and creative consultant. Her varied background gives her the perfect perspective for blending fine art and graphic design.

Dean began her career as a graphic designer over 30 years ago and segued gradually to art director, then creative director. She worked for many years with J. Walter Thompson Advertising, where she put her mark of excellence on numerous national campaigns. She began focusing on her own work as a fine artist about 15 years ago, choosing to limit her art direction and design work to special projects that engaged her creative interest.

Dean's art is about light and space, and defines her as an innovator who uses a variety of mediums and techniques from Plexiglas to glass microspheres to reflective pigments. The paintings in this book are from her Strata series, small images of the sky, some literal, some more abstracted, all exuding tranquility and comfort. (To see more of her artwork, visit www.deanandrews.com.)

Not only does Dean bring her artist's creative focus to the book, but also her uninhibited fervor. She was committed to the process and excited to extend her paintings into the medium of print, merging her own vision with Patricia's and Michael's.